Saturday, April 30, 2005
Running Out of Air
I found two decent pictures from Aqaba from a friend's camera (still waiting for my USB adaptor to arrive...).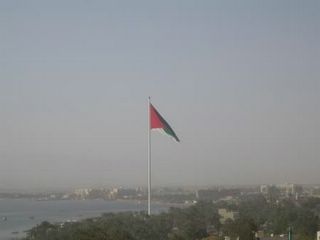 This Jordan flag in Aqaba is supposedly the largest flag in the world. It's pretty darn big and absolutely gorgeous on a windy but sunny day (this picture does it no justice at all).
Here is Ali, Jeta, me and Ali's brother Taed at Aqaba's most famous seafood restaurant:
Alibaba
.
Diving was amazing this weekend. We went down 78 feet to a shipwreck and up into an airpocket in the bow of the ship and I was actually able to take out my regulator and talk with Shane there. On the way back he saw a huge 8 foot Octopus which I missed because I ran out of air (on my first non-training dive!) and had to buddy-breathe my way to the top with one of the Divemasters... Oops...
On the second dive we went to this spot they call Japanese Gardens and we saw a huge Sea Turtle. Everyone was excited because I guess it is pretty rare to see them. It looked old and grumpy but at the same time surreal and majestic. I was pretty impressed. But I must have been too excited, because I had to go back with the early group of people who ran out of air too fast... again... but this time one of our other friends had to buddy breathe and not me. Movin' on up!
I guess I now understand what they mean when they say the most important thing to do under water is relax and let the current help you along, barely even kicking, like you are suspended in space. That's easier said than done for an impetuous klutz like myself, but I think I'm finally starting to get the hang of it.
I heard a rumor today that world travelers' brother Tony and sister-in-law Erica may be coming here for a quick trip at the end of May... That would be very very cool... I'll keep you posted...
|