Thursday, June 09, 2005
Local Celebrities
Jordan has quite a few of their own interesting magazines like this one called "Leyalina" (translated "Our Nights"):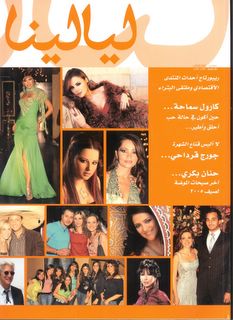 In terms of print and design, Leyalina is comparable to any American glossy magazine. And though there are some other more substantial magazines here (such as Jordan Business Monthly and a great, thought provoking, English-language magazine called "Jo"), Leyalina barely has any articles. They usually lead with a photo shoot of a regional celebrity. Beyond that, practically the entire magazine is filled with photos of regular people (well, upper class regular people) at parties and weddings. Literally, it has pages and pages of posed people smiling at these random events. In fact, it is rare not to see magazine photographers at any decent sized party or event that you attend.
Can you tell who those dorky people are in this issue smiling for the camera?
Oh yeah, that's us.
We were sitting with the owner of the only golf club in town. High rollers ;o) But who could pass up belvedere Vodka tasting night at the Intercontinental Hotel? How snooty does that sound? Sure was fun though. Plus, I have a cool memento from my travels...
|